"
I want my name to be something that, when you hear it, you say "that's cool, but I don't know why".
"
Remix

General
Full Name

Jade

Nickname(s)

Remix

Gender

Female

Species

Human Mutant

Occupation

Rockstar
Superhero

Relationships
Nemesis
Appearance
Eye Color

Yellow

Hair Color

Red with Green Highlights

Production
Season(s)
First Seen
Last Seen
Portrayed By

Debby Ryan
Jade
is a guitar player who became a superhero named
Remix
. She got her powers from radioactive yak milk combined with electrical feed back from her guitar.
She was protrayed by Debby Ryan.
Origin
Before one of Jade's concerts, she used a hand lotion, made with yak's milk, from the Himalayan mountains, a place known for its solar radiation. During the concert, the electric feedback from her guitar combined with the solar radiation and gave her superpowers.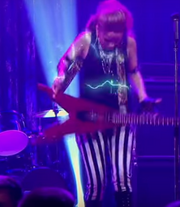 Biography
At the concert where the accident took place, Kaz and Oliver were in the audience and met up with her afterwards to explain she had superpowers, offering to help the next day they took her to Mighty Med to make her a super heroine. While there she met Skylar, who didn't believe that Jade had the bravery and true herorism to be a hero, riviarly broke out between the two, and was made worse when Jade easily defeated Skylar when she tried to prove a point by attacking her. Deciding to teach Jade a lesson, Skylar convinced Titanio to dress up as his archnemisis to show Jade she still had much to learn. But somehow his actual archnemisis turned up.
Taking Jade on, Soul Slayer proved to be too powerful, Skylar joined into help even the fight, however with his teleportation he had to much of an advantage. However Kaz and Oliver managed to exploit his weakness to magnetic fields leaving him vunerable, Jade and Skylar managed to defeat him However he caused debris to fall on them, but Jade protected them both with her forcefield. Afterwards the two made up, and Jade asked Skylar to train her with what she needed to know. However first she agreed to give her a favour and let her sing at one of her concerts, despite Skylar being a horrible singer.
Powers and Abilities
Powers
Ergokinesis - She can project green energy from her hands and use it for a variety of effects.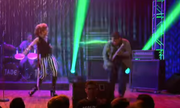 Energy Blast - She can use the energy offensively, to fire blasts of energy.
Force Field - She can use the energy to create a force field, that can protect herself and others.

Levitation - She can hover in the air without aid.
Superhuman Agility - She was seen doing multiple flips through air.
Abilities
Guitar Skills: Jade has been shown to be great at playing guitar.
Martial Arts: Jade is capable of martial arts.
Appearances
Trivia
She might be a parody of Dazzler of Marvel Comics.
Gallery
| | |
| --- | --- |
| | The image gallery for Remix may be viewed here. |
Ad blocker interference detected!
Wikia is a free-to-use site that makes money from advertising. We have a modified experience for viewers using ad blockers

Wikia is not accessible if you've made further modifications. Remove the custom ad blocker rule(s) and the page will load as expected.